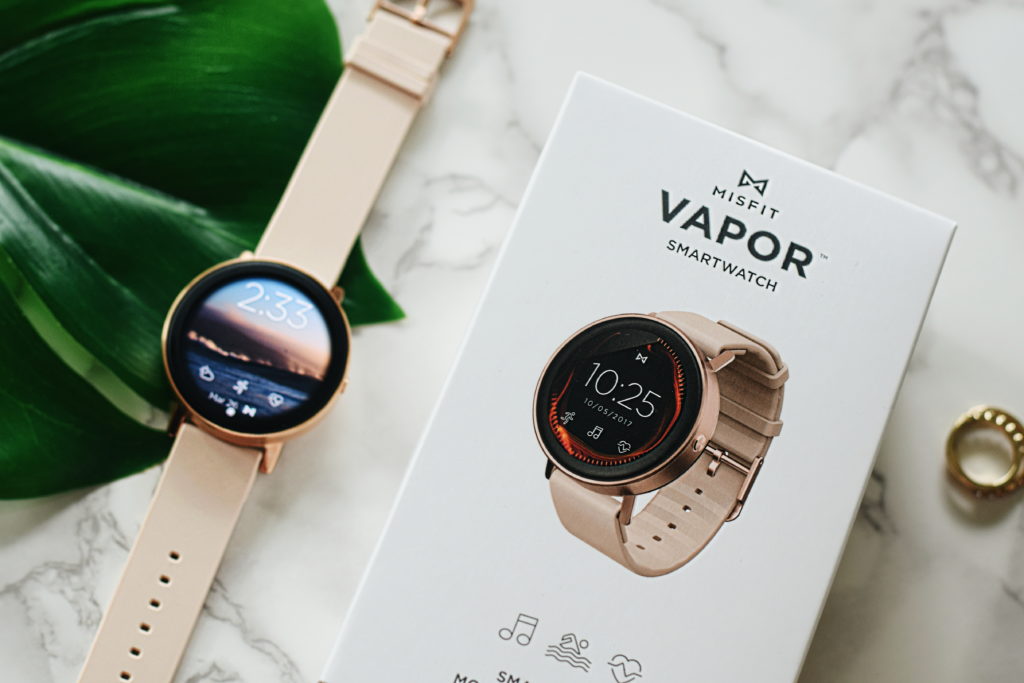 Updating y'all on my fitness routine has been on my mind forever, but I always thought it was not the right time. I guess I was all wrong. After all fitness is not about how much weight you loose but how you feel from within and I never felt better. When I shared my before and after pics, a lot of you asked me how did I end up loosing so much weight (15 lbs to be precise) and today I am spilling the beans. It all started in August of 2016 when I decided to join Boot Camp for weight loss. 6 months of blood and sweat and I still couldn't see any considerable difference, so one day I had a one-on-one session with my trainer and told him about my vulnerability regarding my stomach flab and thunder thighs. All he said was "Honey if you really wanna loose that fat, you gotta run" This statement changed my life and for good.
Taking a trip down the memory lane, I remember my first 5k run. I would have hardly ran a quarter of a mile and I felt dizzy, blood gushing through every single vein in my body and it almost felt like I had a cardiac arrest. Lying in the middle of the track unable to carry my own weight, my mind was too conditioned to the fact that I couldn't run. From then to running more than 5 miles 5 days a week, the accomplishment is real. So today I am sharing 5 important tips that helped me identify my running skills and notch it up a level. (Aaaaah so much 5 in one statement)
Start Slow – I know the motivation and the drive will tempt you to run 5k the very first day you begin. But I'd say it wouldn't be wise. All you gonna do is sprain or hurt yourself and feel like crap. Always start slow and only when you are comfortable increase the distance. I have a very important note here.  DO NOT,  I repeat DO NOT run in the vicinity of your home unless you have great will power. LOL When I used to run at a park opposite my community, I would hardly run a mile or two and then succumb and return back home promising myself to do better the next day, which wasn't happening. So then I decided to switch things up a little. I would drive my car to a golf course a mile away from home and then started running. The first week wasn't a great experience for known reasons. The lap was 3 miles. So even if I couldn't run the entire distance, at least I was walking(I had to get to the parking lot Daaaaa). I would be drenched in sweat and some days it would be dark(I have a phobia with running in the dark) which really made me drag myself to the parking. But within a month I was doing great, and from 3 miles I promoted myself to 4.
Hydrate Yourself Well – Your hydration level impacts your running stamina so much. I realized the days I didn't have enough water, I would start loosing energy fast, my lips would be dehydrated and it would be so difficult to sync my body movements with my pulse. So if I have to run in the evening I would consume atleast 3.5 Liters of water throughout the day. The vital point is "do not drink water 30-45 mins prior to your run". It considerably increases the chances of cramps. Even if you have to, take little sips.
Run To Your Beats – In my early days, I realized the only thing that kept me going was Music. My legs were totally co-ordinated with the beats. The faster the beats, the faster my legs would move. I took it to my advantage and loaded my phone with the peppiest songs.
Never Forget To Stretch – Never ever forget dynamic stretch followed by static before you start your run. Dynamic stretching helps improve blood flow and lubricate joints and muscles, which helps avoiding injuries. Leg swings are the easiest examples. Just repeat it 10 times, increasing the arc of swing with each repetition. Do three sets on each leg. After dynamic stretches, you can add static stretches. A static stretch takes your muscle to its longest length and holds it there for an extended time, usually about 15 to 30 seconds. You should always relax into your static stretch while breathing rhythmically. This helps so much in increasing performance and keeps injuries away.
Keep A Track Of Your Activities – Always keep a track of your progress. No matter how big or small, every single accomplishment is worth celebrating. I still remember the joy of finishing my first 5k. In my eyes I was a star.
So these were my five basic mantras that helped me and I feel is so vital to know before you start your journey.
Also a huge thanks to Misfit for sending me their smart watch and keeping me motivated. They aptly define it as "A sleek and modern touchscreen smartwatch that puts everything you need to stay active, connected and inspired – right on your wrist." This literally is a game changer and running is so much more fun now.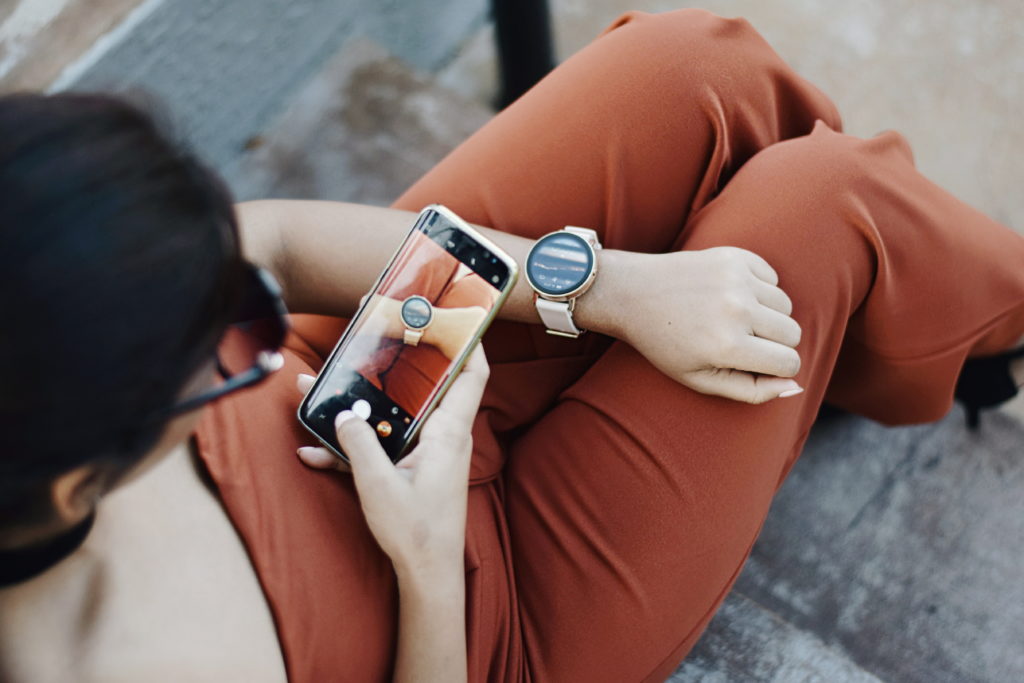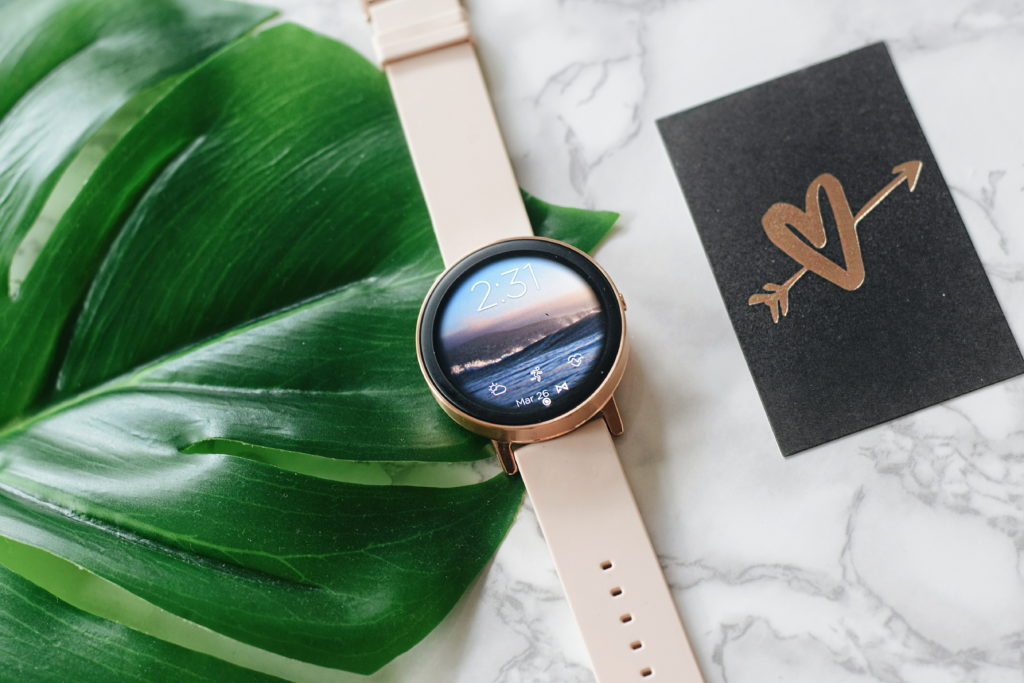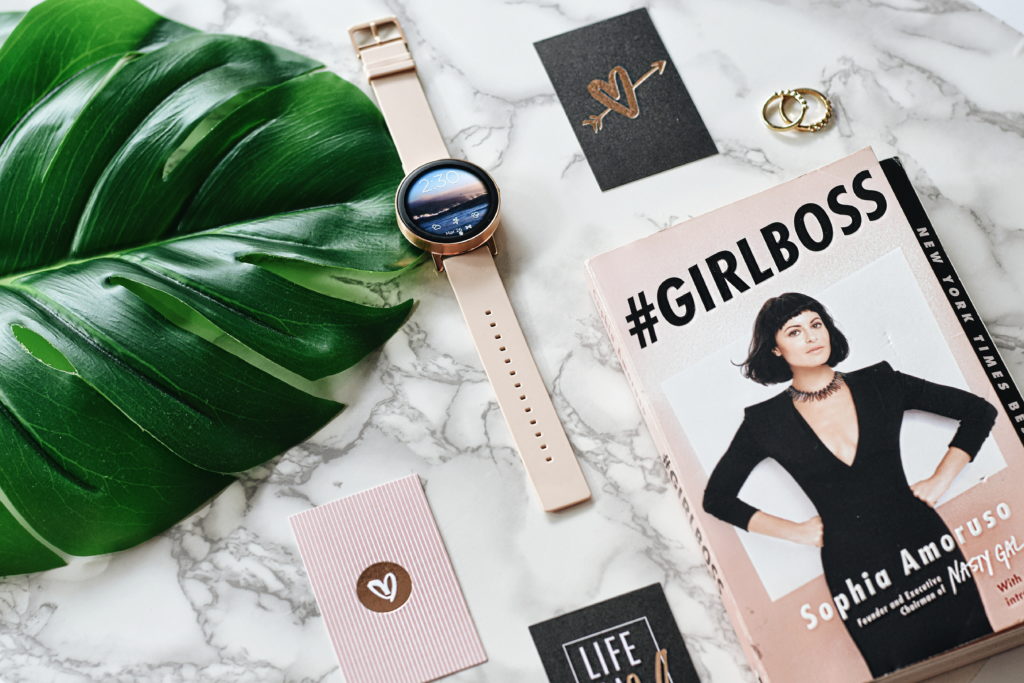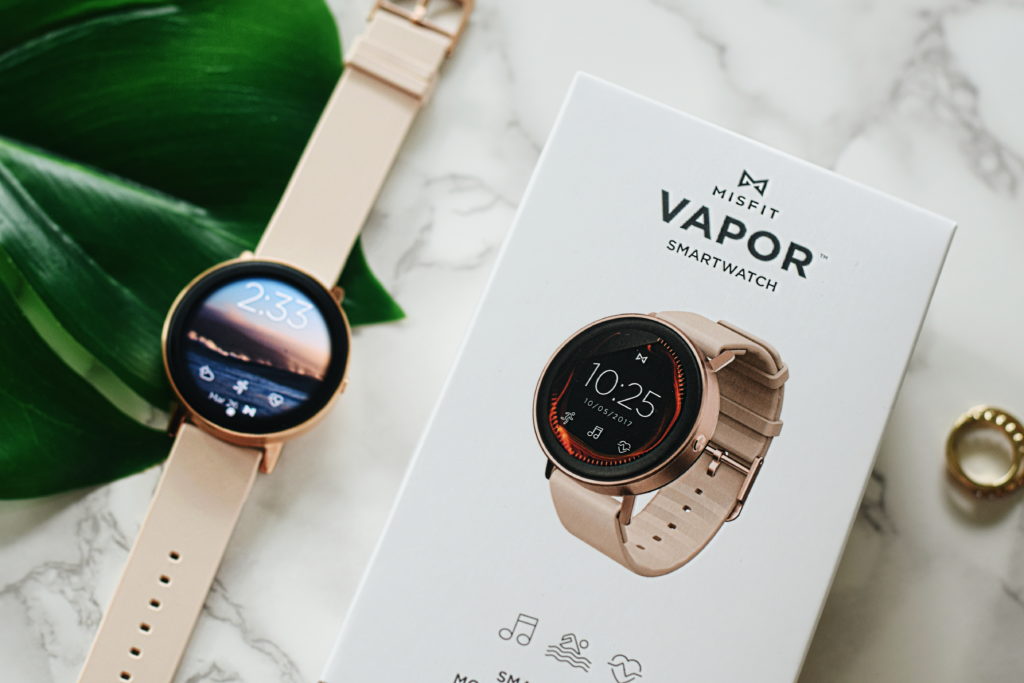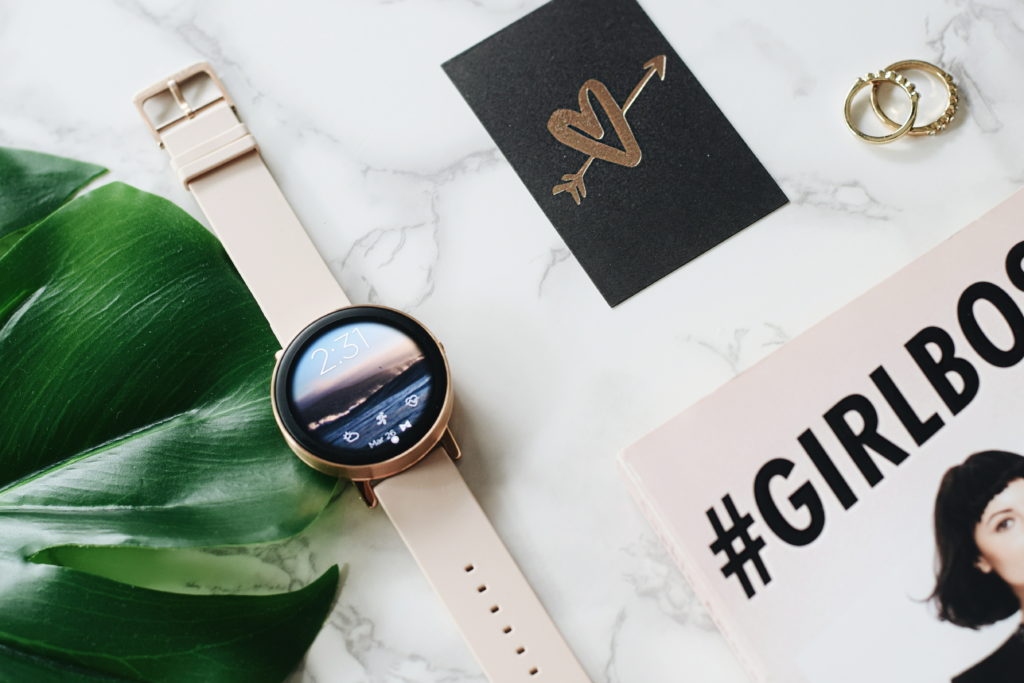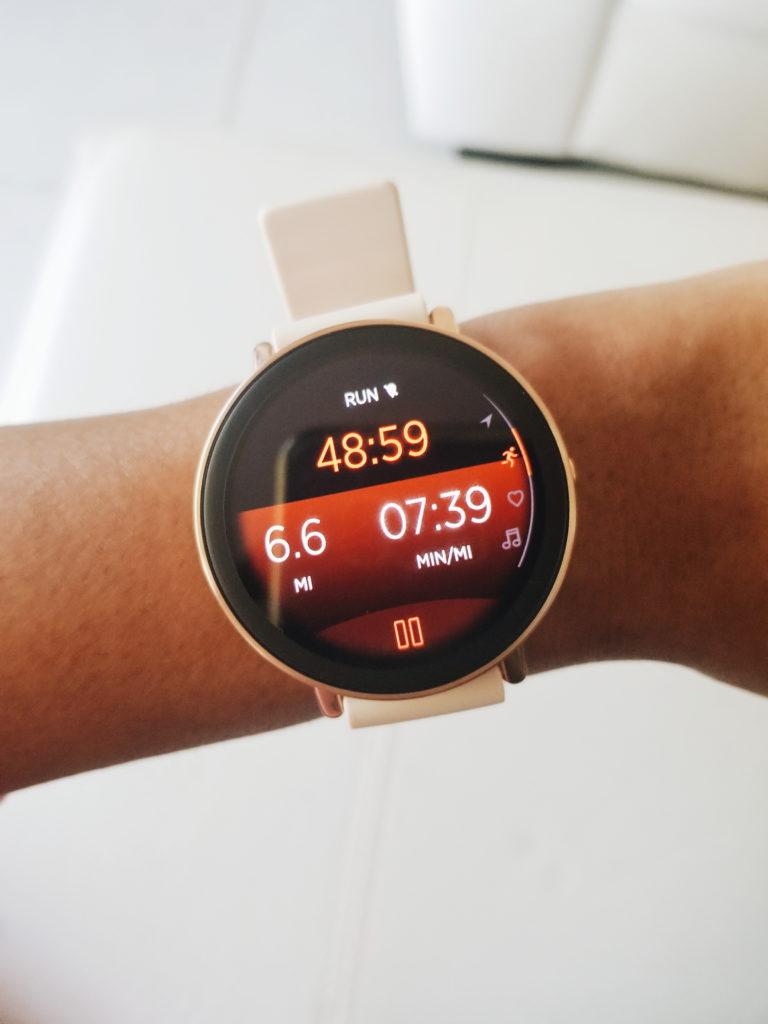 Now its time for a review. Out of the box, the first impression was that its beautifully designed. I received the rose gold metal with the blush sports strap. I love the minimal design and got tons of compliments on the new arm candy. The first day it did take some time figuring out the settings. A fair warning that a lot of installation and syncing is required and it needs to be charged fully before you start using it. Give it a day or two but once everything is set, the battery life lasts for almost a day and a half.
Here are the key features:
Compatible with iPhone® and Android™ phones
Standalone music player + storage that connects directly to wireless headphones
View and track heart rate with built-in sensor
Swimproof + water resistant up to 50m
Connected GPS displays run and activity routes, metrics and stats
On-display email, call, text, and app notifications + vibration alerts and alarms
Virtual Touch Bezel for seamless scrolling and navigating
Magnetic charger that ensures an all-day battery life
Powered with Wear OS by Google
The box contents are Misfit Vapor Smartwatch, Charger, Travel Pouch, Quick Start Guide, and Warranty Book. You can shop the post here:

If you have any other question regarding fitness or the watch feel free to ask me. I will be more than happy to answer. Also let me know if you would like to see more fitness posts in the future. See you soon.
XOXO,
Vyom