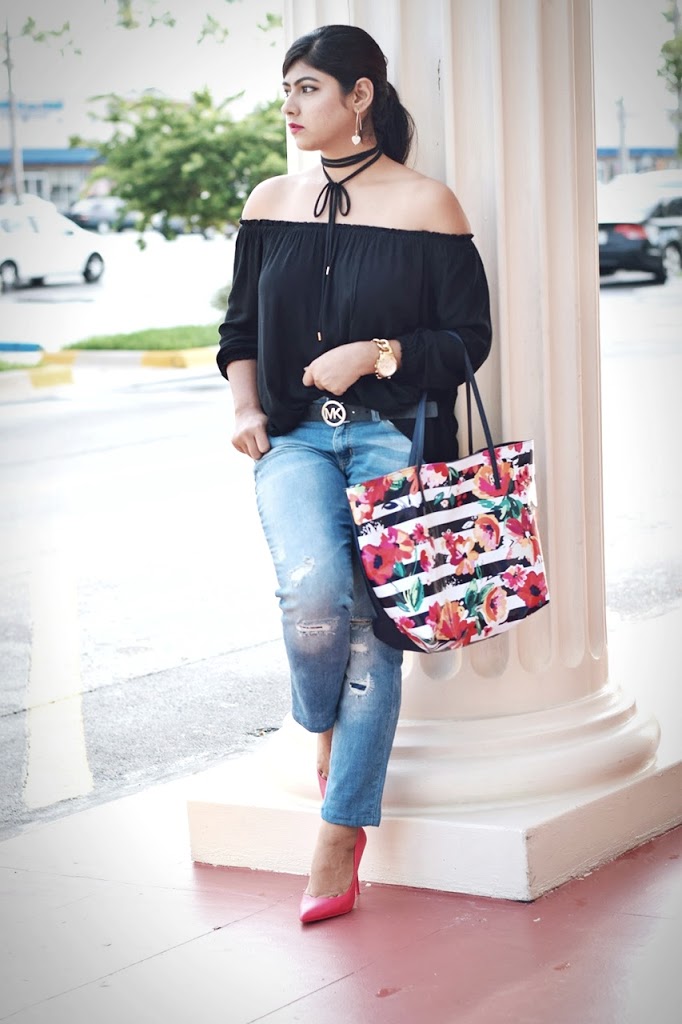 Talking about off-shoulder, its been a rage this season, a fashion phenomenon, and I personally love this style soooooo much. Its a perfect balance of skin show and hide and the most elegant way of flaunting a little skin. The subtlety with which it provides both elegance and sass so effortlessly is amazing. And not to forget its versatility. Can be paired with virtually everything, Jeans, shorts OR skirts. I have a few more stocked up in my wardrobe and will share them with you soon.

Top: Love Coulture
Earrings: Guess
Choker: DIY
Belt: Michael Kors
Shoes: Aldo
Tote Bag: Free with Prada Candy Perfume
You can already make out the amount of tanning I have currently. The advantage of staying in Florida…. Grrrrrrrrrrrrr An off-shoulder is always best paired in my opinion with a distressed denim and a choker necklace. I had a choker necklace that I owned but it wasn't what I wanted for this top. Sooooooo I went ahead and stripped the "waist belt" of my shirt dress and tied it as a choker. It was amazing how many compliments I got for this choker and for that matter, its not going back to the dress anytime soon. 🙂 I pulled my hair into a neat ponytail and added a pop of color with my Fuchsia pumps and finished off with my multicolored flower tote.
Lemme know if you liked the look and what's your fav fashion style??? See you soon.
XOXO,
Vyom