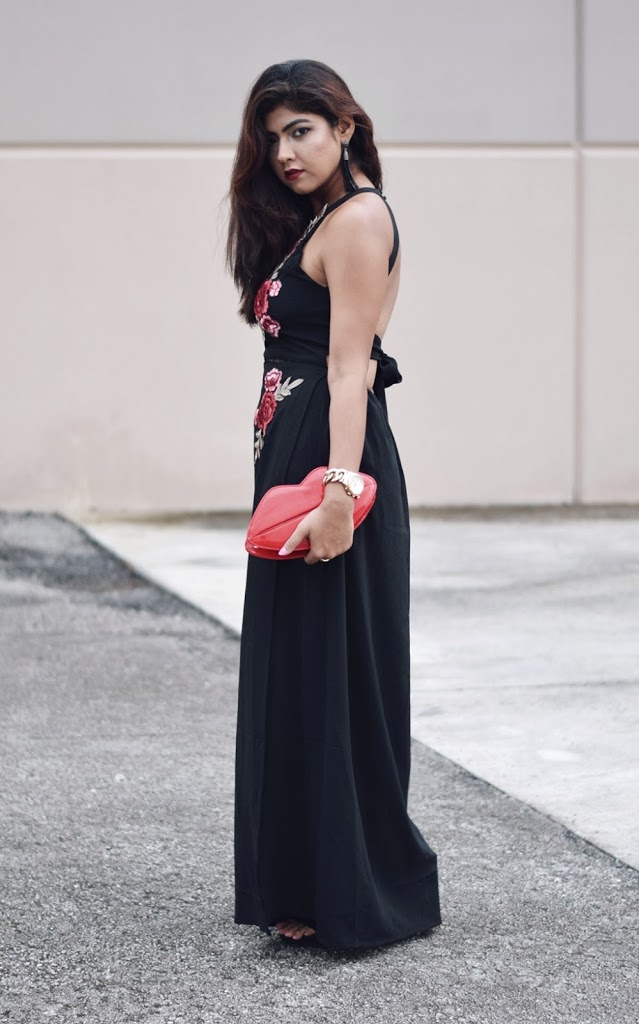 SheIn – An online shop that I came across last year while scrolling down through Instagram, was too good to be true. Amazing quality at unbelievable price and the best part was "Free Shipping" and no minimum order was required. I was still wondering "Where's the catch?" coz it was too good to be true(I was too skeptical to order anything 🙈) And then suddenly hubby darling planned a surprise trip to "Maldives" (You can read the post here)  So finally I decided to give it a try and ordered some awesome vacation dresses that I had being eyeing for a long time. And viola the quality was exceptionally good for the price that I  paid. And since then there has been no looking back.
So when I was contacted by them I was super excited for the collaboration, and settled upon this sultry black maxi dress which is just so perfect for a night out. A few of my numerous reasons for choosing this petty black dress are:
1. Color – Black is my all time fav color in this whole wide world. I mean 50% of my wardrobe is black and I sill can't  get enough of it 😍
2. Stunning Back Details – The back details of the dress is killer. I just looked at it and was hypnotized 💃
3. Thigh High Slit details – I absolutely love Maxi dresses with slits because it makes you look both elegant and sexy at the same time and you have a chance of showcasing your pretty shoes 👠(Unlike our regular maxi dresses)
4. Embroidery – So we all know the amount of rage embroidery has created this season and the pretty  rose patch details on the dress takes it to another level.
The only tips that I have before you shop through this store is:
1. ALWAYS read reviews that are posted for that particular item.
2. Since they are located overseas, it takes around 10-14 days to arrive which might get delayed. So DO NOT order a week or two before your vacation OR any other occasion. Have some time in hand to prevent panic.
Go check the site and you will be amazed by what they have to offer at such reasonable price. Here is the link to the site.
Hope you enjoyed the post.
Maxi Dress – SheIn ($24)
Lips clutch – Amazon ($9)
Lots of Love,
XOXO,
Vyom